Tukwila City Amateur - July 24th and 25th
​REGISTER NOW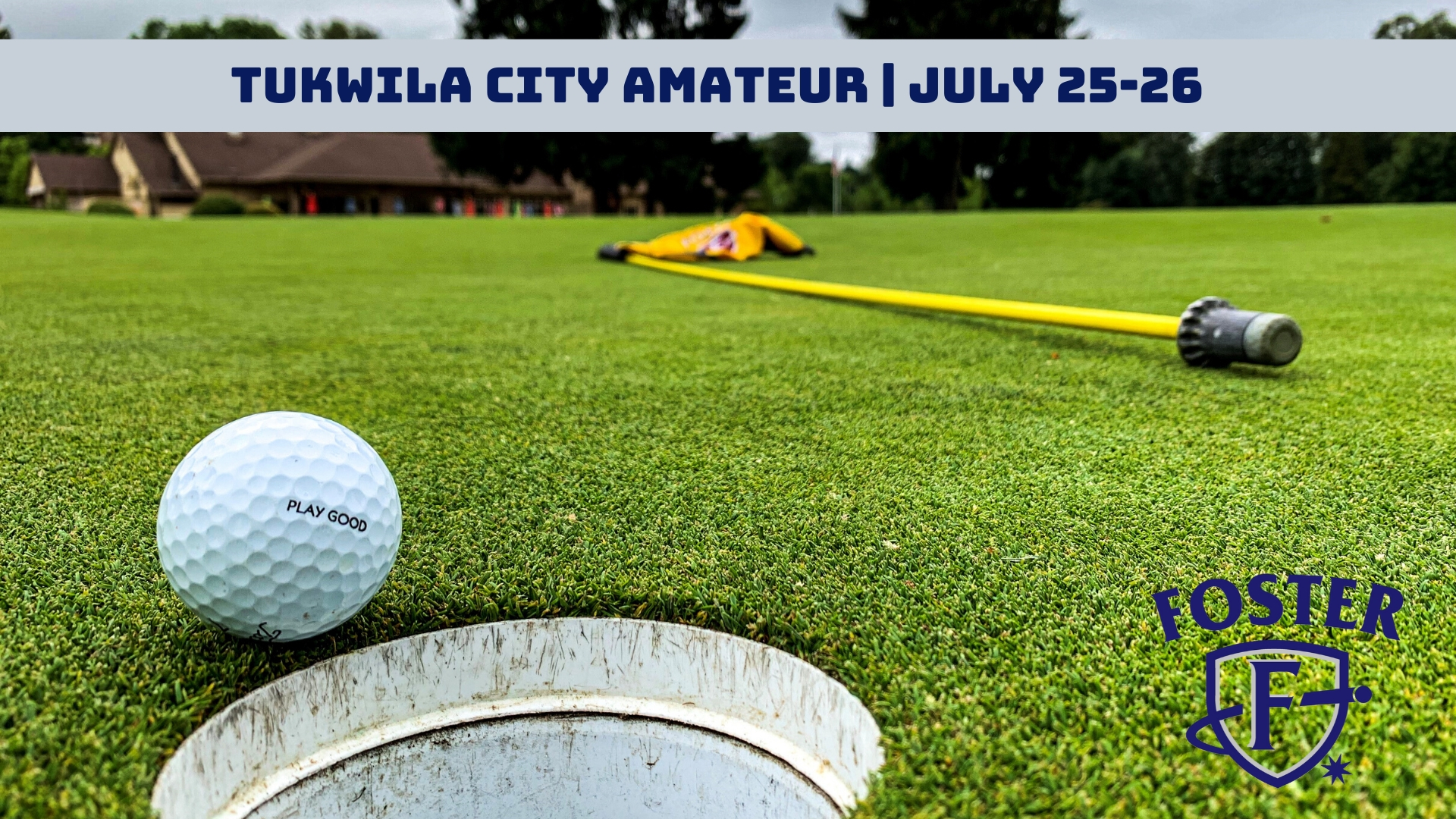 Foster Golf Links is hosting the second annual Tukwila City Amateur. The City Champion will be decided by 2 rounds of stroke play.
$120 – INCLUDES 2 TOURNAMENT ROUNDS OF GOLF, TEE PRIZE, AND PRIZE FUND ($4,800 based on 120 players)
FORMAT: STROKE PLAY (Gross and Net) LADIES AND MENS DIVISIONS - GHIN HANDICAP REQUIRED


Sponsors

---
Tournament Entry Information
Competition – 36 holes of medal play. Player will be divided into flights with prizes being awarded, both gross and net.
Handicap – The tournament is open to all amateur players, and all must have a USGA established and verifiable handicap index. The tournament committee reserves the right to refuse any amateur entry or to adjust any handicap index. All committee decisions are final!
Purse – Prize fund based on a full field of 120 players. All prizes must be redeemed at Foster Golf Links.
Entry Fee – Your $120 entry fee covers two days of golf, prized fund and tee prize. The paid entry deadline is July 23rd, 2019. Sign up early, as the event will sell out. Optional side games will be available at registration.
Pairings – Saturday tee times will be posted by 6:00 pm Thursday. Sunday tee times will be posted by 8:00 pm Saturday. Results will be posted by 11:00 am Monday.
USGA rules govern all play – REMINDER: An amateur golfer must not accept a prize (other than a symbolic prize) or prize voucher of retail value in excess of $750 or the equivalent, or such a lesser figure as may be decided by the USGA. This limit applies to the total prizes or prize vouchers received by an amateur golfer in any one competition or series of competitions.
REMINDER – All additional forms of competition (i.e. Skins Game and Optional Weekend Games, formerly known as "side action") will be paid in Gift Certificate Form. NO CASH PAYOUTS!
---
Tournament Refund Policy
If the tournament is postponed, rescheduled or cancelled by Foster Golf Links, participants will receive a full refund.
In the event the play is suspended during the tournament due to unplayable conditions such as weather, and we are unable to resume, participants will receive a full refund.
All participant refunds will be issued by the City of Tukwila, in the form of a check, or applicable credit/debit cards, within 14 days from the date of postponement. No cash refunds will be made.
---
Tournament Participant Reminders
USGA Rules of Golf govern play.
Practice – See Rule 7-1b, no practice before or between rounds.
Distance Measuring Devices – a player may obtain distance information by using a device that measures distance only.
Automotive Transportation – Automotive transportation is permitted.
Time of Starting – The note to Rule 6-3a is in effect. A player late to the tee will add two strokes to the score of the first hole. Tardiness beyond 5 minutes is a disqualification.
Caddies – Caddies are permitted.
One Ball Rule – The one ball rule is not in effect.
Local Rules – See local rule sheet at registration for any additional local rules in effect.